Jun 30, 2017 04:37 PM Central
Don't let bug bites ruin your family's outdoor fun this summer! Young Living's Insect Repellent is clinically proven to repel mosquitoes and other tiny invaders using only 100 percent naturally derived, plant-based ingredients.
Pure sesame oil and a carefully selected blend of essential oils traditionally used for their bug-repellent properties come together to make up all 99 percent of the active ingredients in this formula. The other 1 percent? Vitamin E. That means you can use it on your little ones and not worry about the harsh chemicals used in many traditional repellents. You'll also love the pleasant, citrusy aroma and smooth, non-greasy, non-sticky application.
So whether you're spending time in the backyard or the backwoods, you can feel great knowing you have a pure, plant-based way to protect yourself and your loved ones.
Due to state regulations, this product is not available for purchase in every state.
Benefits and Features
Clinically proven to repel mosquitoes and prevent bug bites
Repels insects naturally with 99 percent active ingredients, plus 1 percent vitamin E
Formulated with essential oils traditionally recommended for their bug-repellent properties
Made with 100 percent naturally derived, plant-based ingredients
Formulated without DEET, parabens, fillers, phthalates, petrochemicals, animal-derived ingredients, synthetic preservatives, synthetic fragrances, or synthetic colorants
Rubs easily into skin without a greasy or sticky finish
Dermatologist tested and hypoallergenic
Pure, gentle formula free from harsh chemicals
Appropriate for use on children
Vegan friendly
How to Use
Dispense into hand and apply evenly over exposed skin. Reapply as needed. Avoid contact with clothing, as product can stain fabric.
Ingredients
Active Ingredients: Sesame oil (89%), Citronella† oil (6.5%), Lemongrass† oil (1.15%), Rosemary† oil (1%), Geranium† oil (0.5%), Spearmint† oil (0.35%), Thyme† oil (0.25%), Clove† oil (0.25%)
Non-Active Ingredient: Vitamin E (1%)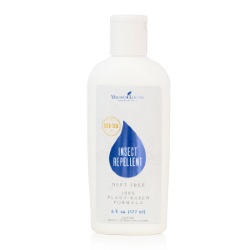 †100% pure, therapeutic-grade essential oil