Dec 3, 2020 09:41 PM Central
Here are two of the finest Young Living Supplements designed to enhance systemic defenses.
Young Living's Inner Defense™ reinforces systemic defenses, creates unfriendly terrain for yeast/fungus, promotes healthy respiratory function, and contains potent essential oils like oregano, thyme, and Thieves® which are rich in thymol, carvacrol, and eugenol for immune support. The liquid soft gels dissolve quickly for maximum results.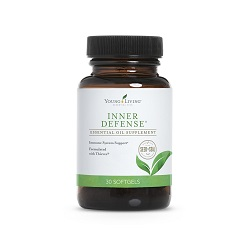 ImmuPro™ has been specially formulated to provide exceptional immune system support when combined with a healthy lifestyle and adequate sleep to support the body's needs.*
This power-packed formula combines naturally-derived immune-supporting Ningxia wolfberry polysaccharides with a unique blend of reishi, maitake, and Agaricus blazei mushroom powders to deliver powerful antioxidant activity to help reduce the damaging effects of oxidative stress from free radicals.*
ImmuPro provides zinc and selenium for proper immune function* along with other chelated minerals which emerging science suggests are more easily absorbed by the body. It also delivers melatonin which encourages restful sleep by promoting the body's natural sleep rhythm.*
With non-GMO dextrose instead of fructose and more Orange essential oil than ever, this formula delivers more of what you want and less of what you don't! This delicious fruit-flavored chewable supplement also has the same great wolfberry flavor but with a new crunchy texture.