Jan 17, 2021 11:51 AM Central
The Raindrop Technique® is a unique practice based on methods that have been used for centuries to rejuvenate the body and mind. The Raindrop Technique helps bring balance and harmony to the body by combining targeted massage and distinctive energy approaches. It also includes pure, therapeutic-grade essential oils to create an atmosphere of spirituality and serenity.
However, sometimes there may not be anyone around able to apply the oils for you.
Enter the Raindrop Bath Soak and the Raindrop massaging oil.
10 Drops of Each of the 9 Essential Oils in the Kit
Mix together and store in a glass container
At bathtime, pour 1/2 cup of the mixture and run your bath water over it.
Use this bath soak weekly to destress thereby enhancing the immune system.
Pour 4 ounces of the V-6 Vegetable OIl into a Glass Container
Add 25 drops of each of the 9 Essential Oils in the Kit
Roll container gently to mix the oils
Apply liberally over your body
*Keep in mind that the V-6 may stain clothing ~ if that happens, apply Thieves Household Cleaner to the stain
and launder as usual
My preference is to use the Raindrop Massage Oil at night while applying the Ortho Ease massage oil in the mornings is a great way to perk up and start the day.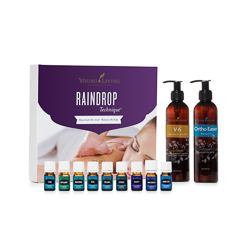 The Raindrop Technique collection includes:
Seven Single Oils (5-ml bottles)

Thyme
Basil
Peppermint
Oregano
Wintergreen
Cypress
Marjoram

Two Oil Blends (5-ml bottles)
Also Contains

8-oz. Ortho Ease® Massage Oil
8-oz. V-6™ Vegetable Oil Complex

The Raindrop Technique collection also includes a mini brochure that teaches you how to perform the Raindrop Technique on others.