Oct 17, 2017 08:30 AM Central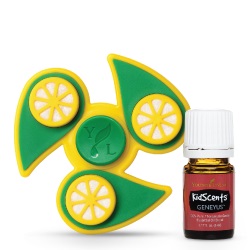 The AromaSpinner™ is a fun new way to enjoy your favorite essential oils. The spinning motion is a great way to focus the energy of busy hands, while the embedded aroma buttons whirl essential oil fragrance into the air around you.
Get one for each of the kids—and an extra one for yourself. This set also comes with GeneYus™ essential oil blend, which has an aroma to further support a focused environment. The AromaSpinner (Item No. 21777) is also available individually.
This set includes:
GeneYus Essential Oil Blend, 5 ml
AromaSpinner™