Nov 17, 2017 12:06 AM Central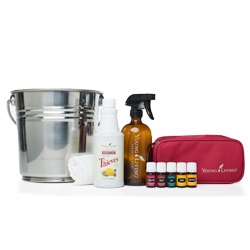 The Thieves Home Cleaning Kit is the perfect introduction to natural cleaning and provides you with a foundation of cleaning tools and supplies to utilize Young Living's 100% pure essential oils. It includes the tools you'll need to clean and protect your home without using harsh, chemicals. You can get started today creating simple and natural cleaning solutions that are not only effective, but safe to use around every member of your family, including children and pets.
Using Citrus Fresh, Lemon, Pine, Purification, and Thieves essential oils along with our Thieves Household Cleaner, you'll love the fresh scent and clean feel of you home. You can even add or substitute some of your favorite essential oils, and we've included directions for you to make each cleaning recipe your own.
The kit also includes a large stainless steel bucket, 16 oz. amber glass spray bottle, cleaning cloth, oil bottle carrying case, and cleaning recipe instructional booklet.
Contents:
Citrus Fresh™ Essential Oil Blend 5 ml
Lemon Essential Oil 5 ml
Pine Essential Oil 5 ml
Purification® Essential Oil Blend 5 ml
Thieves® Essential Oil Blend 5 ml
Thieves® Household Cleaner 14.4 oz.
Carrying Case
Stainless Steel Bucket
Amber Glass Spray Bottle 16 oz.
Cleaning Cloth
Cleaning Recipe Booklet
Due to the popularity of this product, orders are limited to one kit per account per month.