Jul 1, 2021 10:57 AM Central
So many new things going on this month; New Monthly Promos, Convention Products available on Essential Rewards, Celebrating Gary Items ...
So let's start with the Monthly Promos. Every month these rewards change based on the qualifying PV of your order. For instance, if the PV of your order reaches certain amounts (100, 190, 250, 300) then Young Living will send you "Thank You" products for being a loyal customer.
This month there is an extra tier available ~ 400 PV
Next, you will find information on the Convention Products now available for purchase on your Essential Rewards Order.
Finally, you will see products that are BOGO (Buy One Get One) and an amazing new Sample Box.
Create impactful morning routines with the inspiring aroma of KidPower and the strength of KidScents Unwind. Pack for new adventures with long-time favorites like SniffleEase and Owie, which will come in clutch for unexpected mishaps. When it comes time to turn in, put everyone's minds at ease with the scents of Gentle Baby and SleepyIze on weary soles and wrists. Qualify today to claim these products plus free shipping.
Even though these products are from the Kids line, I personally use SniffleEase, Unwind, and SleepyIze on a regular basis. As a matter of fact, I just redeemed points last week to get a bottle of SleepyIze haha. I enjoy diffusing it at night to promote a good night's sleep. I oftentimes also put a drop behind my ears and sprinkle a couple of drops on my pillow.
Next, we have Convention Products that can now be ordered on your Essential Rewards Order.
Take note that the Golden Turmeric is not available until Mid July.
The Divine Destiny Collection is a must-have for anyone wanting to take their spiritual awareness to the next level!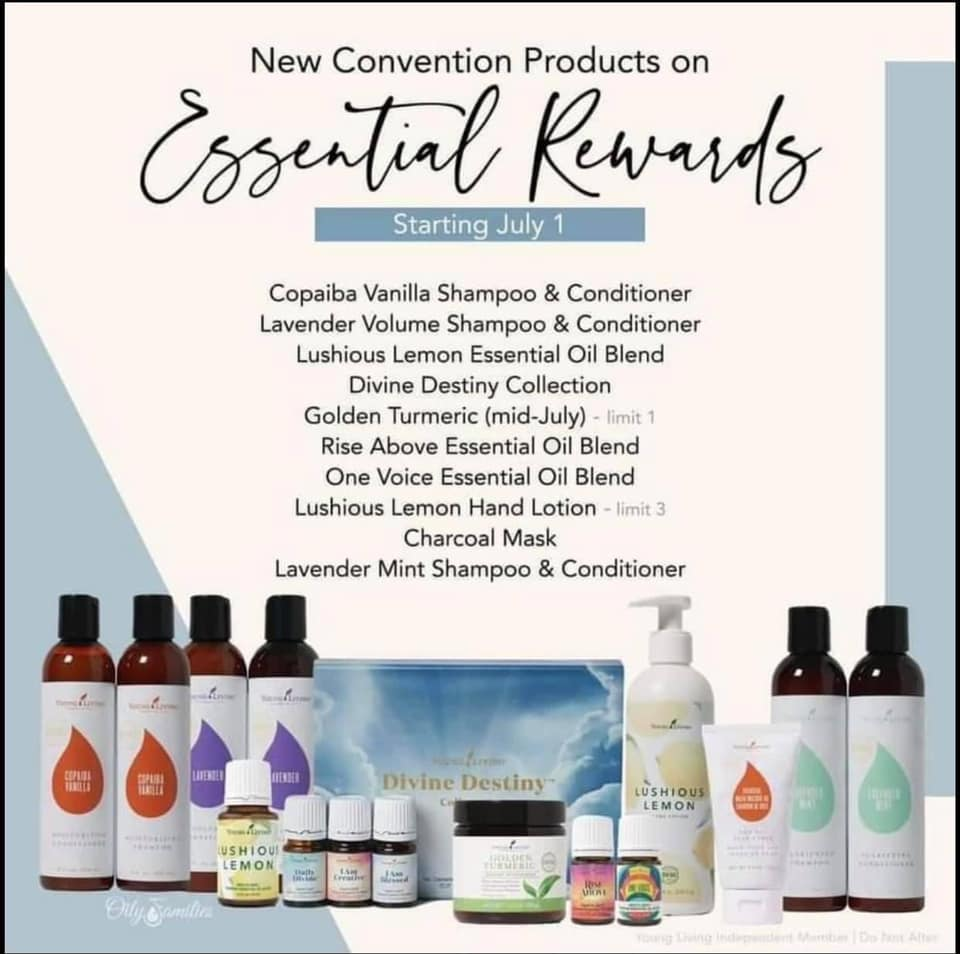 Finally, we have some special deals in honor of Gary Young, founder of Young Living.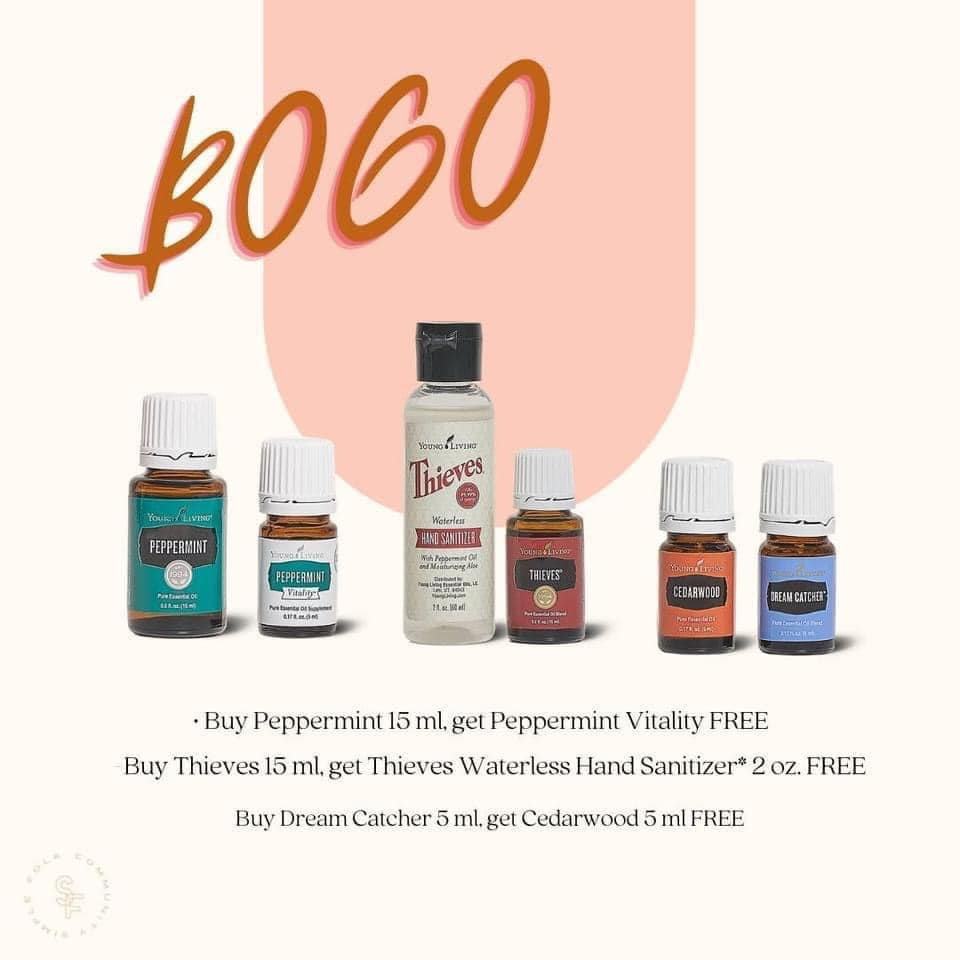 Next, we have Gary's Great Day Protocol available as a set.
Let me tell you ~ I remember the first day I used this protocol ~ November 11, 2018
My Mom had passed away on August 2, 2018 and a friend told me about this Protocol.
I applied the oils as indicated and it was the first time I was able to go
into the Market and shop without crying.
I did another application when I got back to the house and then received a phone call
that my brother-in-law had a stroke.
I then did another application that afternoon and then received the news
that one of my sisters had passed.
I am so grateful for the Oils YHVH has provided for us.
This Great Day Protocol helped me receive beauty for ashes.
I used it daily for months ~ and still continue to do so regularly.
Then when one of my brothers passed away on February 6, 2019,
because I still continued using the Protocol daily,
it was a time of me being able to provide support to his family with understanding.
This is definitely a must-have for your spiritual warfare arsenal!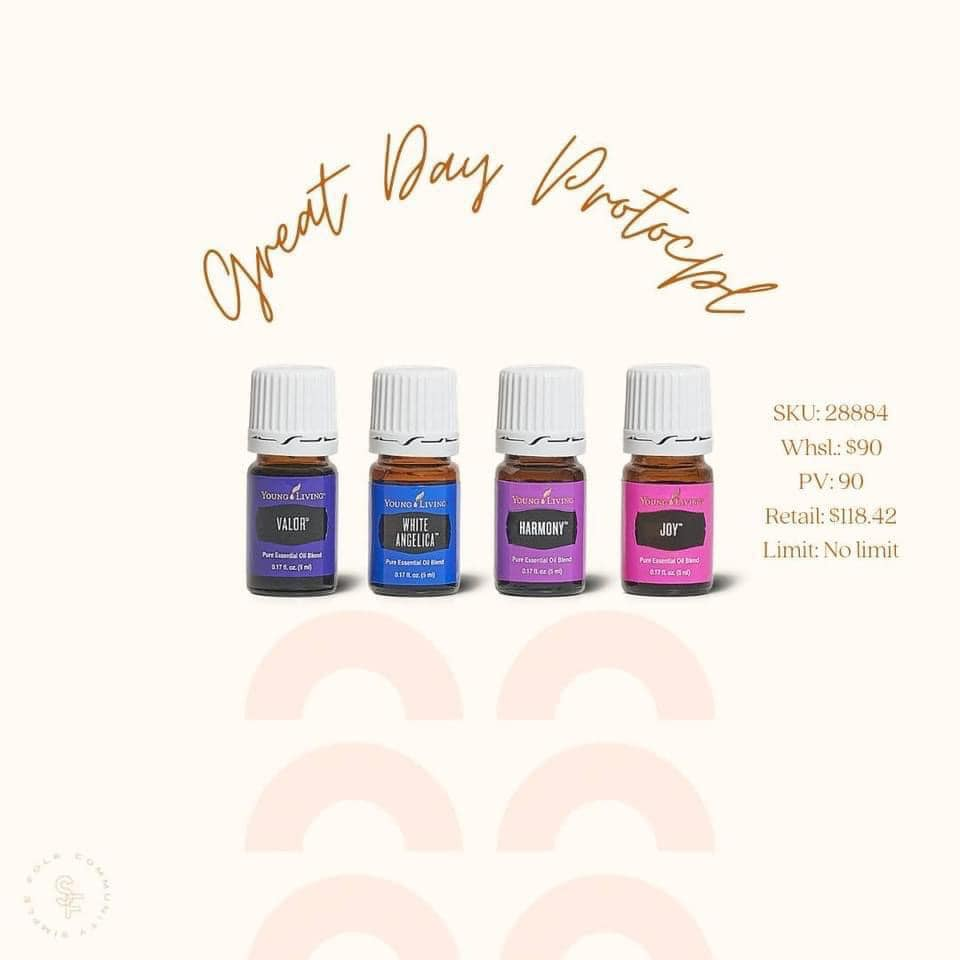 Now we get to the Sample Box ~ This is so exciting!!!
Have you ever wanted to try some different products however you didn't want the full-size version?
Or maybe you wanted to share some samples with family or friends?
Introducing the SAMPLE BOX
They are also handy to carry in your vehicle, purse, briefcase, man-bag, have at your desk.
And there is NO LIMIT on the number of these you can order!
As my Granddaughter would say, "Sharing is Caring".
There are 26 total samples so make a list of people who you would like to bless with a sample or two ...