Aug 1, 2021 12:21 PM Central
Young Living enjoys rewarding those on the Loyalty Rewards Program
(formerly Essential Rewards)
and this month is the first time I have ever seen a 500 PV PROMO!
When you purchase your monthly go-to's; Household Cleaner, Laundry Detergent,
Dish Soap, Bar Soap, Make-Up, Cereal, Granola, NingXia Red, Hydration Drinks,
and your favorite oils for prayer/meditation, purifying the air, etc. . .
. . . in addition to your products, you will receive the following BONUS items.
FREE SHIPPING when your PV is 100+
Questions or Concerns Contact: (575) 574-2581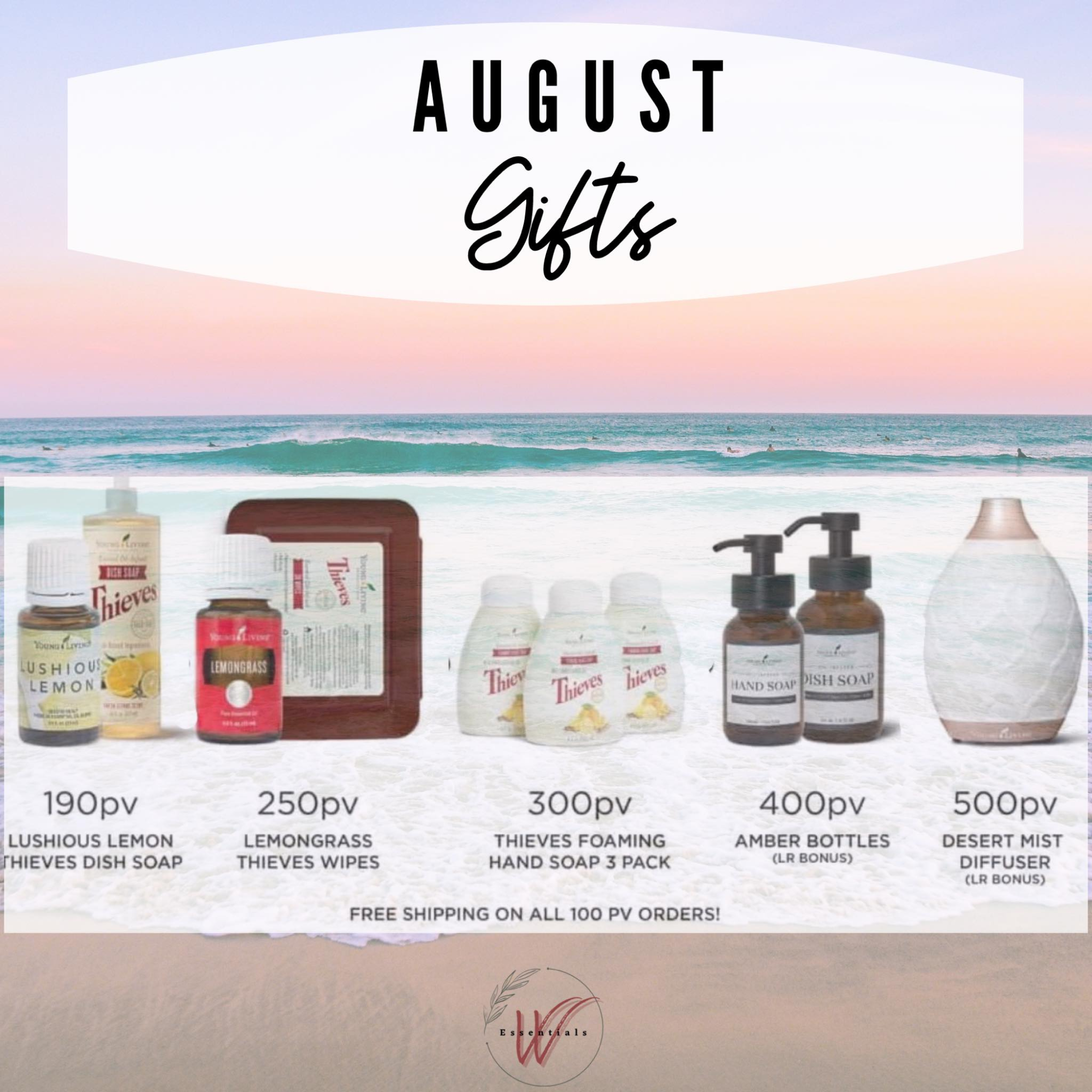 New! 500 PV tier
Retail value: $292.44
Bonus Subscribe to Save offer (previously ER): Desert Mist Diffuser
• Looking for a little room makeover? Start with this diffuser—its beautiful, elegant design that looks like a Moroccan trellis pattern is the best place to start.

400 PV tier
Retail value: $205.27
Bonus Subscribe to Save offer (previously ER): Amber dish soap bottle
• Create your own concoction. Have a secret family recipe that rids dishes of stuck-on food in no time? Use this amber dish soap bottle as the perfect holder for your superstar solution.
• Do it all with dish soap. In this gift with purchase-exclusive amber bottle (not available for sale), combine dish soap with Thieves Household Cleaner, vinegar, and water and scrub on walls to remove spots.
Bonus Subscribe to Save offer (previously ER): Amber foaming hand soap bottle
• Class it up with glass. For a fancy feeling in your guest bathrooms, add your favorite foaming hand soap to this gift with purchase-exclusive amber foaming hand soap bottle (not available for sale).
• Suds up with your signature scent. Do you love the smell of Lavender, Peppermint, or Lemon? Add your personal blend to any foaming hand soap and use it in this amber bottle.

300 PV tier
Retail value: $169.74
Thieves Foaming Hand Soap, 3 pk.
• Double up on cleaning and self-care. Clean hands don't have to be dry hands. Show your hands some love with Thieves essential oil blend, tea plant extract, and aloe.
• Wash away unwanted chemicals. Don't clean up with toxic chemicals. Instead, turn to this Thieves, Lemon, and Orange-infused hand soap for a sudsy, skin-softening dream.
250 PV tier
Retail value: $111.51
Lemongrass essential oil, 15 ml
• Add Lemongrass to a spray bottle with water and spritz it over linens, towels, and clothes. You'll adore the sweet and citrusy scent over any store-bought air freshener.
• Add 3−4 drops to a sink full of dishes, a load of laundry, or an all-purpose cleaner.
Thieves Wipes, 30 ct.
• Get rid of gross grime. When your travel agenda looks a little more planes and trains and less automobiles, use these wipes to spruce up public spaces with one swipe.
• Fight the sticky! Clean up messy fingers with these plant-based wipes or give your work desk a post-lunch pampering with a quick wipe down.

190 PV tier
Retail value: $77.30
Thieves Dish Soap, 16 oz.
• When no way becomes hooray! Turn a hated chore into a pleasant experience with our plant-based Thieves Dish Soap—now in an exclusive to gift with purchase 16-ounce size (not available for sale).
• Scrub up stone surfaces. In a spray bottle, add 2 tablespoons of Thieves Dish Soap and a few drops of Lavender; fill the rest with water, and voila! Start using this fabulous floral cleanser.
Bonus Subscribe to Save offer (previously ER): Lushious Lemon essential oil blend, 15 ml
• From Lemon to Lushious! Take your favorite scent, Lemon, and step it up a notch with the additions of Lemon Myrtle, Ylang Ylang, Spearmint, and Eucalyptus Globulus.
• Snuff out stinky smells. Place a Lushious Lemon-infused cotton ball in the refrigerator, bathroom drawer, or trash can. This method (or diffusing) is better and more versatile than any candle.

100 PV tier
Free shipping
• Yay for zero-cost shipping. Reach our 100 PV tier and we'll ship your order for free.