Nov 1, 2022 10:03 PM Central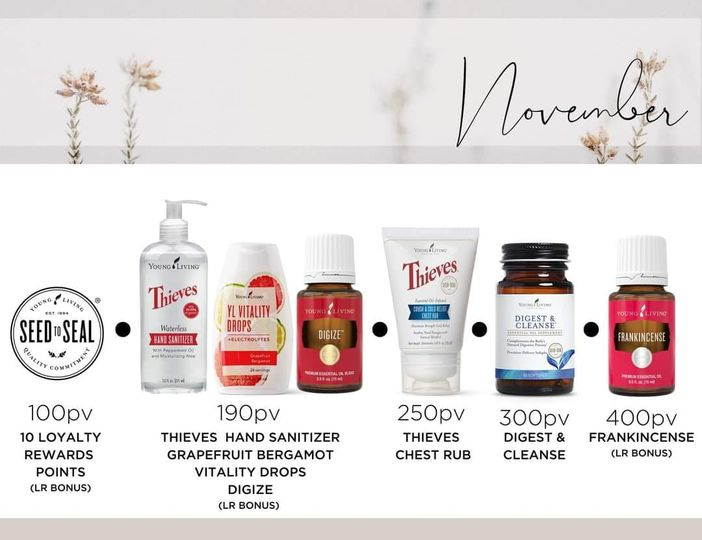 Winter wellness faves AND FRANKINCENSE are here for FREE!
Make sure that you are ordering the very best way, which is through Loyalty Rewards!
This is our monthly wellness box loyalty program.
Alright let's break down these promos to see what you get!

100PV // 10 BONUS LOYALTY REWARDS POINTS
You'll earn your normal 10-25% back in Loyalty Rewards, PLUS an additional bonus 10 LR points!

190PV // VITALITY DROPS, GRAPEFRUIT BERGAMOT
// THIEVES HAND SANITIZER
// DIGIZE, 15ml, LR Bonus
+ Vitality Drops, Grapefruit Bergamot
Have trouble getting your water in? Not anymore! Packed with electrolytes (sourced from the Great Salt Lake, which has over 70 naturally occurring ionic trace minerals!!) and delicious flavor, these drops transform your water intake and stay hydrated all day. Vegan, sweetened with stevia, and no sugar or artificial colors. Grapefruit Bergamot is so refreshing!!! One squeeze is perfect for a glass of water.
+ Thieves Hand Sanitizer
Ideal for everyone, including little hands that like to grab everything! So gentle - keep one everywhere!
• Kills 99.99 percent of germs and bacteria
• Plant based formula with antioxidants, green tea and gingko is safe for all ages
• Infused with Young Living's Thieves signature essential oil blend and Peppermint essential oil for a sweet, spicy aroma
• Formulated free of petrochemicals, mineral oil, parabens, sulfates, phthalates, synthetic fragrances, dyes, preservatives, or toxic ingredients
+ Digize
Digestive support is the BOMB. So much of our immune function lives in the gut - healthy gut = healthy immune system. This also comes in a Vitality (remember - they are the same oil, different labels!) A drop of Digize Vitality in a capsule, under the tongue, or in a glass of water is a good place to start!
The oils included in this blend; Tarragon, Ginger, Peppermint, Juniper, Fennel, Lemongrass, Anise, and Patchouli - they work as one to support this vital body system.
Take a few drops of Digize and rub some on abdomen to help unwind emotions stored in the stomach - nervous tummy is no fun.
Also, rub a drop on your chest before rubbing Thieves Chest Rub on top. IT WILL CHANGE YOUR LIFE. Breaks up that stuff like you wouldn't believe.
For pregnant mamas, use a single drop massaged on the outer ear to help with normal morning sickness.

250PV // THIEVES CHEST RUB
Conquer your seasonal cold the natural way!
This 100 percent plant-based formula delivers over-the-counter strength with hands-
free application for quick relief you can count on.
Take control of your comfort and temporarily relieve cough and congestion with soothing aromatic
vapors and a powerful combination of camphor, menthol, and eucalyptus.
Thieves Chest Rub helps reduce cough and is safe to use on family members ages 2 and up!
It provides maximum-strength cough relief and acts as a cough suppressant, plus temporarily relieves stuffiness, cough, and congestion from minor throat and bronchial irritation. It supports healthy breathing and helps relieve chest aches associated with colds
Formulated free of petroleum, parabens, phthalates, mineral oil, synthetic perfumes or dyes, artificial colors, preservatives, or GMO ingredients
It is derived naturally from plants and features hands-free application!

300PV // DIGEST & CLEANSE
This is a must-have supplement to get things moving, soothe an irritated digestive system, and get the toxins out! It has been out of stock for years…keep your eyes open for this one! Have you ever had those moments where you know you are going to eat or drink something that you know is not the best idea because it will upset your stomach? How about you just feel a little clogged up and want to support a healthier digestive process?
Digest and Cleanse can help with both situations and more! It is simply essential oils encapsulated into a gel capsule. All the essential oils included are to soothe the gastrointestinal system and support healthy digestion. Stress, over-eating, and toxins can all cause cramps, gas, etc.
Made with the following oils, one of these pills about 30 minutes before a meal truly help keep things flowing!
- Peppermint which helps reduce intestinal spasms, soothes and cools, and helps support healthy digestion
- Caraway which soothes the bowels, eases digestive discomfort, and improves elimination
- Lemon which helps dissolve cholesterol and fats, and also alkalizes and cleanses the digestive and lymphatic systems
- Ginger, Fennel and Anise which all help stimulate digestion, reduce gas and bloating, and make your intestines a place parasites do not want to live or chill in!

400PV // FRANKINCENSE, 15ml, LR Bonus
Who loves glowing skin? Spoil yourself with this starter bundle oil in the 15 ml size for FREE and make yourself some Glow Serum. Add 10 drops of Frankincense with 5 drops of any other oil great for your skin (Manuka, Tea Tree, Blue Tansy, Rose or Lavender) to a dropper bottle or roller bottle and top with jojoba oil. Apply to fine lines nightly. This is also an incredible oil for your brain.
Frankincense activates the part of your brain that does logical thinking versus emotional thinking. The pineal gland in your brain loves it ~happens to be a fantastic oil for supporting your hormones since the production of your hormones start in the brain. The pineal gland produces melatonin and serotonin. So no wonder why frank is also GREAT for sleep!!! Frankincense Vitality is also a powerhouse for immune and cellular support. This is a staple in our wellness cabinet.