Nov 17, 2019 09:13 PM Central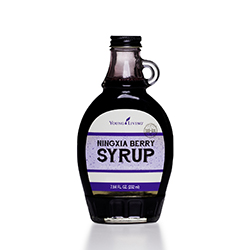 This premium, all-purpose syrup combines wolfberries and citrus essential oils with other naturally sourced ingredients such as blueberry, plum, sweet cherry, aronia, and pomegranate. The smooth, warm vanilla extract complements the tangy berries and citrus flavors for a balanced, fruity syrup—and its versatility means that you'll reach for it again and again.
Gary's True Grit™ NingXia Berry Syrup's delicious flavor will win over your family, and you'll love that it's made without high-fructose corn syrup or artificial coloring. Plus, the classic syrup bottle design is convenient to store in tight refrigerators and makes a beautiful addition to your family's breakfast traditions.
Gary's True Grit NingXia Berry Syrup uses:
Drizzle atop whole-grain pancakes or waffles made with Gary's True Grit™ Einkorn or Gluten-Free Pancake and Waffle Mix.
Add to Slique® Shake, Pure Protein™ Vanilla Spice, or in your favorite smoothie for a touch of sweetness and extra flavor.
Use as a topping to your health-conscious desserts.