Aug 6, 2020 09:50 AM Central
Whether you're already longing for pumpkin spice or hoping that high temps last through late September, we've got something to sweeten up these last summer days! When you level up in August, you'll earn a 750 ml bottle of NingXia Red®. If you go the extra mile and Double Up, you'll receive a YL-branded picnic set with a basket, cooler bag, blanket, and two sets of silverware, plates, goblets, and napkins! Remember, you level up when you help two people upgrade from retail, reactivate, or enroll with Young Living and sign them up on Essential Rewards with a 100 PV order or more. To double up, you'll need to do the same for four people.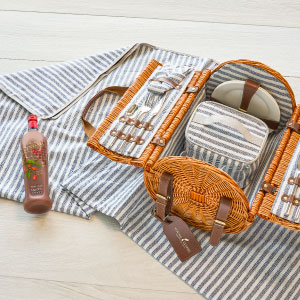 NingXia Red is often called "Liquid Gold". Benefits include support for energy levels, normal cellular function, and whole-body and normal eye health. A daily shot of 2–4 ounces helps support overall wellness with powerful antioxidants.
Speaking of eye health, let me share a bit of my testimony. I am 57 years old now. I began drinking NingXia Red almost 4 years ago. Since then I had seen many health benefits, however today I want to specifically address what it has done to support my eye health.
My husband is an optician by trade and he said my prescription was the strongest he had ever seen in all his years of eye care.
Since I began drinking the NingXia Red my prescription has changed TWICE already! At my last eye appointment on Friday, July 31, the optometrist said; "Keep doing your herbals and your supplements and you will avoid many eye concerns that come with aging."
How do you like them apples, LOL
So getting a FREE BOTTLE OF NINGXIA RED for helping two other people engage in a life of wellness is AWESOMENESS ... and that Basket is the sweetest ... perfect for Date Nights, indoor and outdoor picnics with Grandkids, or even your Bestie ... possibilities are endless ... you will receive the Basket and the NingXia Red when you help 4 people enroll, reactivate, or upgrade from retail to wholesale this month.