May 3, 2022 01:19 PM Central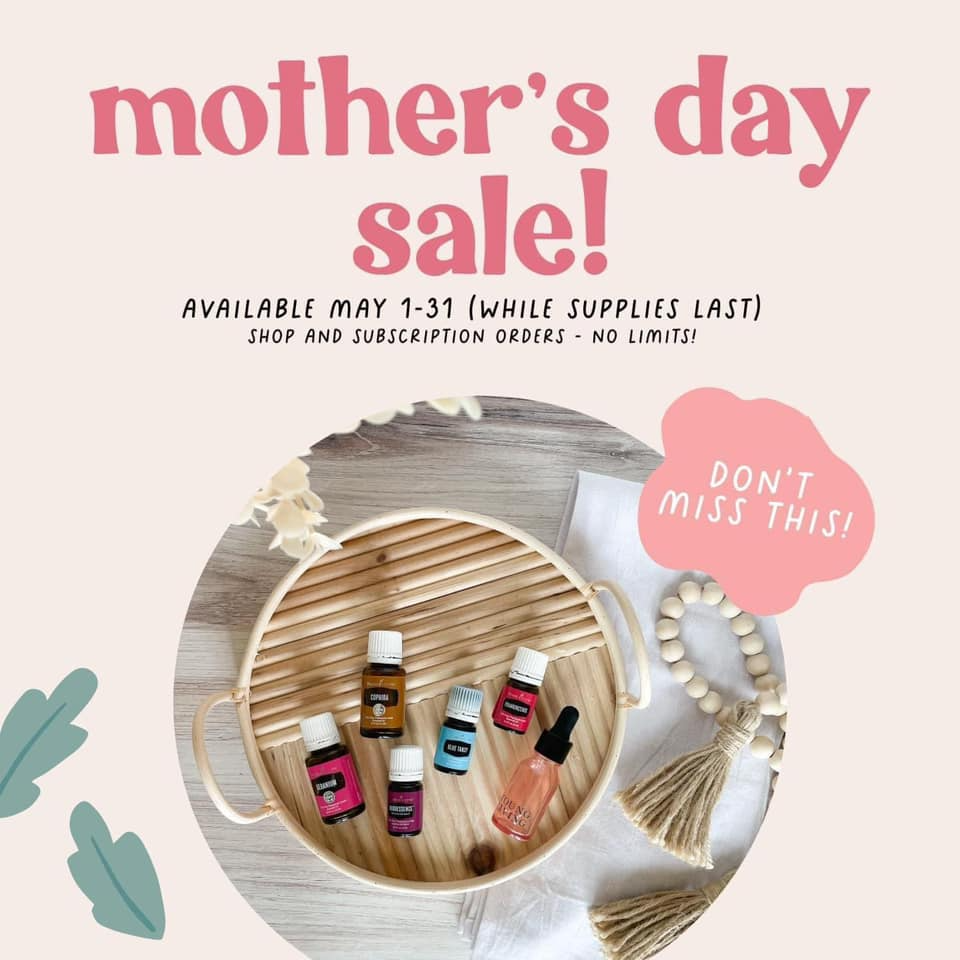 I HOPE YOU'RE SITTING DOWN



Have you EVER seen Blue Tansy at this price???
Plus, Amoressence for EVERYONE!!!
Young Living is taking the whole month to celebrate the special people in our lives who love and care, nurture and support us. From now to May 31, take advantage of 30% off hand-selected self-care oils like Geranium and Copaiba, plus a chic dropper bottle and limited-time Beauty School-exclusive Amoressence essential oil blend!
(PSA Mother's Day is May 8!)


Blue Tansy 5 mL QUE THE HAPPY TEARS
Item #3084 I Now $69 I 69PV
This oil is one of the most incredible oils for skincare! Blue Tansy is a staple in high-end skincare products, yet the quality of oil used is incredibly poor. This oil from YL can do wonders for your skin! Use alone or with other skin-loving oils in a daily serum to make your face feel as soft as clouds.


Frankincense
5 mL - exclusive size!
Frankincense, or Frank as we affectionately call it, is your skin's BFF. The original when it comes to healthy, happy skin, Frankincense is versatile enough for your beauty routine and your first aid kit.


Copaiba 15 mL
We call this oil 'The Firefighter' because it does wonders to help soothe the fires - skin needs, tension, wellness, beauty. This versatile oil is gentle enough for the tiniest oilers and effective enough for any need you have.


Geranium 15 mL
Item #3554 I Now $31 I 31 PV
This floral oil is great for brightening the skin, deterring outdoor pests, and uplifting the spirits. Add to your beauty serum, use in perfume rollers, and add to your outdoor routine.
NEW & LIMITED TIME FAVORITES


Pink glass dropper bottle
Use these adorable pink glass dropper bottles for all of your DIY serums with these skincare favorites! OR use them to hold your favorite diffuser blend and make diffuser filling easy.
Amoressence 5 mL
Item #4901 I $26 Wholesale | 26PV
Previously limited for sale at just Beauty School events, this romantic mix of exotic essential oils is available for all for a limited time! (Pro tip: I love it best on my clean, freshly washed scalp and hair!) Featuring Jasmine, Ylang Ylang, Vetiver, Ocotea, and Idaho Blue Spruce, this exclusive blend is perfect for a facial massage, bath soak, or a signature personal scent. The beautiful floral notes uplift and relax, making this the perfect blend to pamper your spirit and your skin!

HOW TO USE THESE FAVORITES:

You know we are stocking up on these incredible skincare deals, and here are some of the ways we use them. These make amazing gifts!
* Pink glass dropper bottle
* 20 drops each Blue Tansy, Copaiba
* Fill halfway with jojoba oil, then the remainder with emu oil.
* Use morning and evening!
* Pink glass dropper bottle
* Optional: 15 drops Geranium for brightening
* Fill halfway with jojoba oil, then the remainder with emu oil.
* Use morning and evening!
Blonde Bombshell Toning Shampoo & Conditioner
* 25-35 drops Blue Tansy per bottle
* Young Living Copaiba Vanilla Shampoo & Conditioner or Lavender Volume Shampoo & Conditioner
* Add about half the shampoo or conditioner to the pump bottle, then add in Blue Tansy. Add the remaining shampoo/conditioner to desired color and mix again.
* If the color separates a bit after sitting, simply remix before use.
* Or you can simply add a couple drops to your shampoo and/or conditioner in the shower whenever you use it.
* 1 cup cold pressed coconut oil
* 3 drops each Vanilla, Tangerine, Blue Tansy
* Combine all ingredients in a metal or glass container. Apply in the shower to exfoliate & moisturize!
* ¼ cup dried lavender buds or rosebuds
* Optional: 1 dropperful Citrus CBD Oil
* 15 drops each Frankincense, Copaiba
* Optional: 5 drops Myrrh, Helichrysum
* ¼ cup coconut oil or ½ jar Rose Ointment
Keep Calm Perfume Roller (10mL)
* 20 drops each Lavender, Tangerine
* Fill with carrier of choice
* Offer available May 1-31 (while supplies last) on shop and subscription orders with no limits. This promotion is available all month, but if you're shopping for Mother's Day, be sure to shop super early!
* Available on one time and subscription orders.
* Open to NFR orders.
Frankincense and Copaiba are two "MUST HAVE" in our home.
Excellent for soothing any discomfort :}
And Frankincense is one that YESHUA/JESUS used for sure!