Oct 29, 2020 10:45 AM Central
Today I am diffusing a combination of Thieves Essential Oil with Orange Essential Oil
The scent is invigorating while providing a sense of focus.
Hints of Cinnamon and Orange wafting through the air invite happiness into the heart.
Young Living's proprietary Thieves
®
essential oil blend was inspired by the legend of four 15th-century French thieves who formulated and wore a special aromatic combination of clove, rosemary, vinegar, and other botanicals that they believed provided protection while they were stealing. French authorities recognized that there was such value in this mixture that upon the thieves' capture, they received a more merciful punishment on condition that they divulge the ingredients in their secret formula.
Crafted in the spirit of that legendary combination, Young Living's one-of-a-kind Thieves essential oil blend can be found in all our Thieves products. Featuring
Clove oil
,
Cinnamon Bark Oil
,
Eucalyptus Radiata Oil
,
Rosemary Oil
,
and
Lemon Oi
l
.
Thieves Oil imparts a spicy, welcoming aroma everywhere it's used.
With the benefits of Thieves oil, including cleaning power and an irresistibly spicy scent, Young Living offers it as an essential oil blend and as an important ingredient in a full range of
home cleaning and personal care products
, from dish soap to toothpaste. Possibly our most versatile and beloved blend, Thieves products replace harsh chemicals with pure, therapeutic-grade essential oils and other naturally derived ingredients.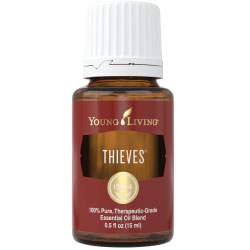 Orange essential oil has a sweet, bright aroma reminiscent of a blossoming orchard of orange trees. Start your day with an uplifting burst of liquid sunshine by diffusing Orange as you get ready in the morning. With just a few drops, you can fill any space with a sense of peace, harmony, and creativity.