Jul 30, 2017 02:05 PM Central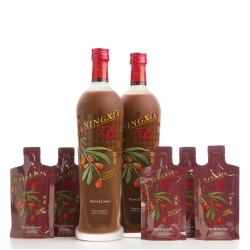 The NingXia Red® Combo Pack is the best of both worlds: two full-sized 750-ml bottles and a 30-pack of 2-oz. singles. With these two options, you can enjoy NingXia Red at home, on the road, and anywhere in between!
Premium NingXia Red ingredients include juices and extracts from superfruits such as aronia, plum, blueberry, and pomegranate, plus a whole-fruit puree of exotic wolfberries. This delicious supplement packs a big punch, offering NingXia Red benefits that include support for normal eye health, cellular function, and energy levels.
Choose the NingXia Red Combo Pack to experience this healthy and delicious treat anywhere you need it. Store a 750-ml bottle in the fridge and keep the portable servings in backpacks, purses, and lunch boxes. You'll get everyday support and all the benefits of NingXia Red with you wherever you go!
NingXia Red Combo Pack Uses:
Keep a bottle of NingXia Red for yourself and gift out the smaller single servings to friends and family. These packets are a simple and low-pressure way to share your healthy lifestyle.
Store single-serving packets with your daily supplements. These premeasured sachets make it easy to get Young Living's recommended 2–4 oz. of NingXia Red every day.
Give your daily shot of NingXia Red a little variety! Add 1–2 drops of your favorite Vitality™ essential oil. We love Cinnamon Bark Vitality, Tangerine Vitality, and Black Pepper Vitality.
* These statements have not been evaluated by the Food and Drug Administration. Young Living products are not intended to diagnose, treat, cure, or prevent any disease.
Ingredients
Proprietary NingXia Red Blend 29g Ningxia Wolfberry Puree (Lycium barbarum), Blueberry Juice Concentrate (Vaccinium corymbosum), Plum Juice Concentrate (Prunus domestica), Cherry Juice Concentrate (Prunus avium), Aronia Juice Concentrate (Aronia melanocarpa), Pomegranate Juice Concentrate (Punica granatum) Proprietary Essential blend 50mg Grape (Vitis vinifera) seed extract, Orange EO (Citrus sinensis), Yuzu EO (Citrus junos), Lemon EO (Citrus limon), Tangerine EO (Citrus reticulata) Other ingredients: Tartaric acid, natural blueberry flavor, pure vanilla extract, malic acid, pectin, sodium benzoate/natural stevia extract.
Supplement Facts:
Serving Size:: 1 fl ounce (29.5 ml) Servings per container:: About 25 Calories:20 Total Carbohydrates:5g Dietary Fiber: <1g Sugars:2g Sodium: <5mg