Dec 1, 2022 09:25 PM Central
When you order 300 PV worth of products you will receive the following valued at $289.81
As my husband would say, "How do you like them apples?" Haha ~ one of my his favorite lines from "Good Will Hunting".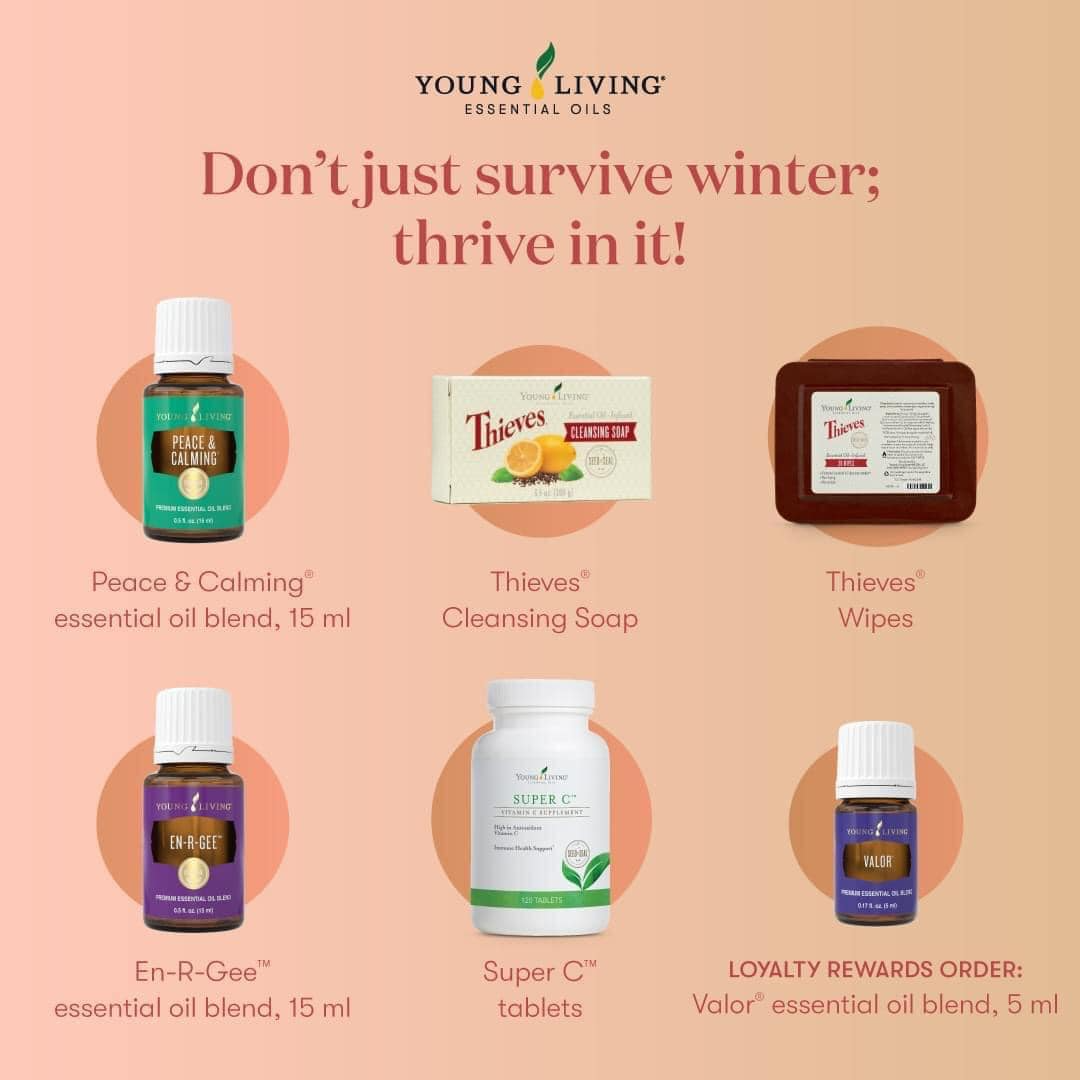 Excerpt from a fellow Royal Crown Diamond's post.
VALOR essential oil blend 5ml no. 3337
"If I only had the courage, I would have __________________"
Fill in the blank, what would you have done?
Chances are, quite a bit.
Valor was formulated with courage in mind.
We need courage to dream, to ask, to believe, to pursue. We need courage to think, to change, to embrace, to evolve. We need courage to live our most incredible life to the fullest.
We need courage to discover wellness within. We need courage to embrace our purpose and we need courage to believe abundance is within our reach.
The very pillar of Young Living's vision for us. Gary wanted all of us to experience Wellness, Purpose and Abundance.
Friends, it awaits you. All of it, and so much more. Confidently know that, and you will stand stronger.
HOW TO USE:
apply to spine after adjustment to hold your alignment strong

apply to shoulders and bottom of feet for grounding and emotional balance.

apply to bottom of feet at night for a more "silent" and restful sleep for either for you, or your spouse

Apply 6 drops of Valor on bottoms of feet to help increase oxygen and blood flow

To balance left and right brain, put oil on left fingers and rub on the right temple or put oil on right fingers and rub on left temple.
WISDOM FROM GARY YOUNG
Collected from lectures, recordings, and the D. Gary Young Blog
Why did I (Gary Young) create this formula? The essential oils in Valor were used by the Roman soldiers before battle to promote courage during a time of physical and emotional challenges. All of us go through physical and emotional challenges. I made this blend in 1990 because at that time I was having a confrontation with the IRS, and I had to go to Seattle for the hearing. I was representing myself in court because I couldn't afford an attorney. I was really scared. I'd never been in a court with the IRS before; this was a first experience.
I made Valor the night before, poured it in the tub, and then bathed in it. At that time I was living in Spokane where I had a little farm I was starting. I drove to Seattle, stayed in a motel, got up, went into the hearing that morning and presented my case. They made me feel like I was less than dirt. But I stood my ground and argued my points, and then I left. Two weeks later I got a certified letter in the mail announcing to me: Mr. Young, we've heard your case, we've reviewed it, we have accepted your presentation, and we have dropped our issues against you. So I won on all 42 counts. That was a big accomplishment for me. So, Valor became very, very dear to me and has been a very powerful oil blend ever since.
Valor is superb for balancing the body, for empowering. Blue tansy is in it. Frankincense so you can come from a spiritual space.
Valor at the bottom of the feet, up the spine. Valor balances physical, emotional and mentally. It facilitates everything else that you do, keeps you at peace and balance. Aligns the skeletal system.
And this month you can receive Valor as a FREE BONUS oil.