Sep 1, 2023 08:18 PM Central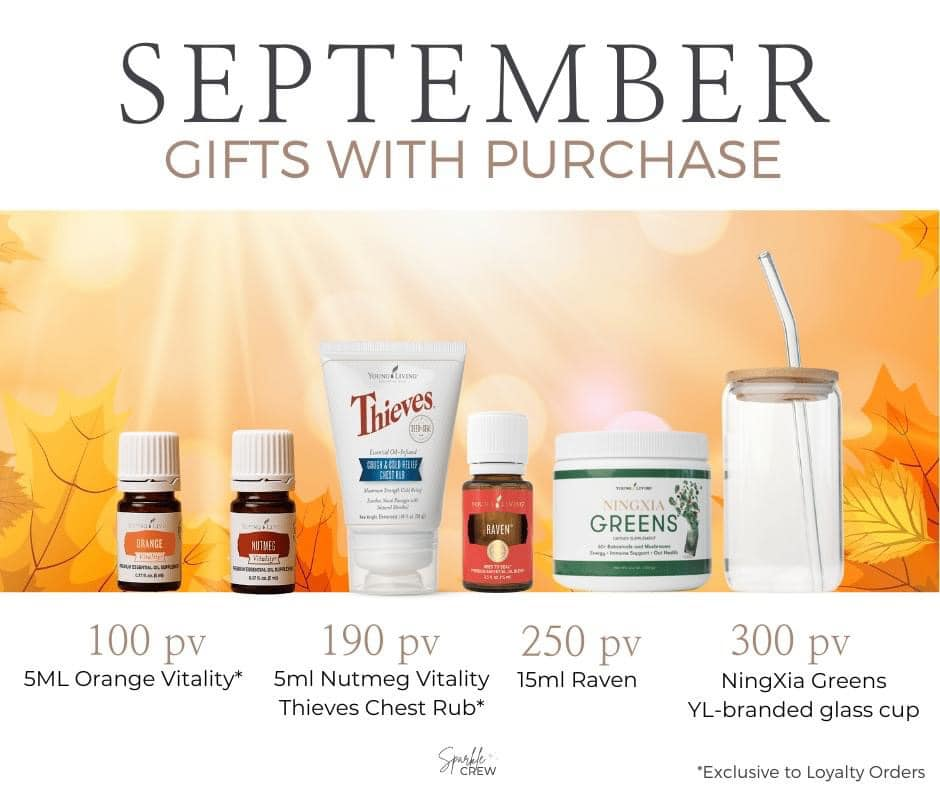 Did you know that you have the opportunity to receive $200+ worth of free products from Young Living this month?!! It's true!
Every month, YL gives away free product to us in our orders. September's freebies are perfect for immune support, breathing easy, happy moods, and gut health as we go back to school and get back into an Autumn rhythm!
Make sure that you're ordering the very best way - so that you can get the most freebies - which is through Loyalty Rewards! This is our monthly wellness box loyalty program. You can not only get freebies, but you can earn rewards points + a free diffuser, too!
Be sure to add these to your LOYALTY ORDER ~ you'll be glad you did!
OK… here's what you can get for free this month, just for placing an order of a certain amount:
PLACE A 100PV LOYALTY ORDER AND GET A 5ML ORANGE VITALITY!
The oil freebie at 100pv is BACK! And everyone rejoices!!!!!
Put a drop on your toothbrush while you brush for some all-natural tooth-whitening action!
Add a drop or two to your daily NingXia Red (orange oil is high in antioxidants and Limone - worth Googling to see all the health benefits THIS offers!).
Orange is the happy oil… so just the smell of it will lift your spirits and put everyone in a good mood before they start their day.
When everyone is home pop some orange in the diffuser to boost creativity and help make homework and dinner prep a breeze.

PLACE A 190PV ORDER, GET THESE FREEBIES:
Thieves Chest Rub (Loyalty Rewards Bonus only)
This is THE fall scent! Pop this in your diffuser with some Cinnamon, Orange, Ginger, and Clove… and you'll smell like the best chai tea shop around!

If there was one oil you could use to support your adrenal system (the stress system!) it would be Nutmeg! Rub on adrenals if you're feeling tired, worn out, or stuck in fight or flight mode.
Massage into sore, tired muscles after a long workout.
Nutmeg Vitality is also super YUMMY in your fall baking!

This is a 100% plant-based alternative for over-the-counter coughs, sniffles + congestion.
This natural cough suppressant that will open your chest, sinuses + airways up... naturally!
It's free of petroleum, parabens, phthalates, mineral oil, synthetic perfumes or dyes, artificial colors, or preservatives.
It's got a hands-free application that's super convenient, and there's no sticky residue. Just roll it over your chest and breathe deeply!
Come fall and winter, you will be REALLY glad you have this in your home!!!! In fact, many family like to have one Thieves Chest Rub in each bedroom… because when you need it, you don't want to be running all the house looking for it. Get one for every family member… and thank me later!

PLACE A 250PV ORDER, GET a 15ML RAVEN ESSENTIAL OIL BLEND!
How glad are you that YL is gifting us Raven! This is the perfect time of year for this uplifting, lung-supporting blend!
Is it smoky where you live? Pop Raven in the diffuser! It will make your home smell like a spa and clean the air for you.
Are the leaves falling and grasses dying… making your nose stuffy or runny? Pop Raven in the diffuser! It will open you up!
Raven contains ravintsara aka camphor - the active ingredient in over the counter chest rubs. (Sadly the OTC rubs contain synthetic camphor. We however have the good stuff - real and natural!). This oil is our go-to for when we need to breathe easy.

Sinuses, lungs and respiratory tracts LOVES this oil blend.
And it smells SO delicious, too! I think it's the Wintergreen that makes it pop


PLACE A 300PV ORDER, GET THESE FOR FREE:
NingXia Greens supplement
12 oz. YL-branded glass cup
+ NingXia Greens supplement
With just 1 scoop in your water, you'll get the benefits of 60+ fruits, vegetables, herbs, algae, and mushrooms!! It's full of antioxidants, vitamins, minerals, and other important phytonutrients.
Check out some of the key players in this powder supplement:
• Maitake, reihst, turkey tail, shiitake mushrooms
• And a whole host of fruits + veggies!
It contains the MultiGreens essential oil blend, including Melissa oil (!) - which costs almost $200 a bottle!
If you have kids who are picky eaters (or you struggle to get all your nutrients in) just drop a scoop of NingXia Greens into your water and mix it up with a handheld frother... it's the easy button for feeling good!
I know most green powders taste like green chalk… but this one actually is yummy! It also tastes great when combined with Aminowise, Golden Turmeric or NingXia Zyng

You can also add it to your smoothie or NingXia Red mocktails (see recipe below).
+
12 oz. YL-branded glass cup
This is the cutest cup! It has a lid and a straw and is YL-branded, of course!
This would be perfect to make your mocktails in… or sip on your daily NingXia
And since it's made of glass, it's also safe for you to drop those YL vitality oils in!
Here's a fun mocktail recipe for you using some the September freebies:
Mix with a handheld frother